Death of a Salesman:
Death of a Salesman revolves around the idea of the American dream. The American Dream can consist of the following components: family, wealth, opportunity, prosperity, and social mobility. This is a set of national ethos that make up the American Dream. However characters from Death of a Salesman such as Willy Loman, Happy, and Biff have certain components of the American Dream yet fail to obtain the condition that they desire and need the most. Each character represents a fragmented aspect of the American Dream. Happy for an example has social mobility, wealth, and opportunity. However he lacks a family of his own. None the less in Death of a Salesman, the motif of dreams specifically the American Dream reoccurs over the entire course of the play.
1. WILLY: That is a one million dollar idea.

LINDA: Marvelous!

BIFF: I'm in great shape as far as that's concerned!

HAPPY: And the beauty of it is, Biff, it wouldn't be like a business. We'd be out playin' ball again…

BIFF [enthused]: Yeah, that's…

WILLY: Million-dollar! (Act 1)
This excerpt from the play shows that Willy's delusion along with his two sons to start a water polo or basketball team is another component of the American Dream, which is to obtain wealth. However the idea in the play never gains traction as it shows the fragmentation of the American Dream and it's failure. it signifies the death and failure of a dream. In other words their dreams to achieve the American Dream are a distraction from reality which is akin to that of a dream while sleeping.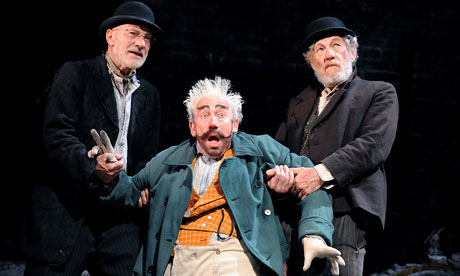 Waiting for Godot:
In Waiting for Godot not only is the word dream repeated constantly it is also a motif that reoccurs. Estragon and Vladimir are the characters of focus throughout the play. Later on we tend to see a shift that goes back and forth between Vladimir tending to be more optimistic then Estragon to be more optimistic. One theme through the play is that they do nothing, they speak of their future then do nothing, and speak of their dreams then don't speak about them and then they do nothing. It frequently repeats that Estragon will fall asleep and upon waking up will attempt to speak to Vladimir about his dreams, however Vladimir will scream at Estragon not to tell him about it.




1. ESTRAGON:

(wild gestures, incoherent words. Finally.) Why will you never let me sleep?

VLADIMIR:

I felt lonely.

ESTRAGON:

I was dreaming I was happy.

VLADIMIR:

That passed the time.

ESTRAGON:

I was dreaming that—

VLADIMIR:

(violently). Don't tell me! (Silence.) I wonder is he really blind.

Samuel Beckett in a way was trying to define and convey that dreams are something that can progress one self towards the future and their goals, but by denying ones dreams by physically telling them to stop talking about it is a method to stop oneself from moving at all.